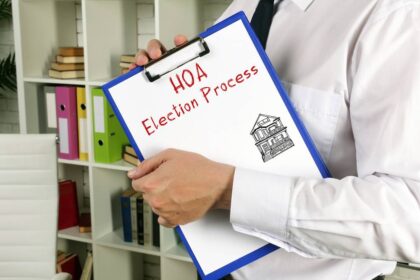 According to California law, each HOA must have its own rules that govern elections. Otherwise, HOA elections could be challenged in court, and the elections (and actions taken by illegally elected directors) could be voided. Here is what you need to know about HOA elections.
The election process begins at least 60 days prior to the actual election. At that point, the HOA will send out candidate nomination forms that must be returned at least 30 days prior to the election.
Each candidate for an HOA position must be given equal use of HOA media. If there are mailing lists, all must be given equal access. Everyone must be allowed to send communications to homeowners stating their qualifications and position.
The actual vote will happen by secret ballot for obvious reasons. Homeowners will receive a ballot by mail at least 30 days before the election, and it will have nothing on it that can identify them.
The HOA must also hire an independent third-party monitor for the election process. These monitors will effectively run the election. They will receive and count the results. They will also set the manner of voting and will decide any disputes about the elections. Their job is to conduct the election fairly, within the California laws.
Once the monitor tabulates the votes, they will notify the board of directors. The results are to be reported to the homeowners within 15 days after the election. The results are recorded in the minutes of the next meeting of the board of directors.
San Jose, CA, Campbell, CA, Mountain View, CA, Sunnyvale, CA, Santa Clara, CA, Cupertino, CA HOA Attorneys
HOAs must strictly follow the laws for elections, or else there may be consequences. The attorneys at Pratt & Associates can help your HOA with compliance. You can reach us online or call us at 408.369.0800 to schedule an appointment.